Search engine optimisation and marketing for your website.
We at New perspective studio not only pride ourselves on quality web design with superior functionality but also our ability to market and optimise website for users and search engines.
What is search engine optimisation ?
Search engine optimisation involves a multitude of on page and off page techniques ranging from a website developers scope to proper site structure, link profiles and speed optimisations to that of a graphic designer for great user interactions.
This leads to increased conversion rates , better user metrics and ultimately a better ranking meaning more clients and more conversions.
Software that assists in tracking your website progress.
Among our many techniques using the right software is key to success in SEO. As you can see here one of our clients Asap Properties, boasts a first position for the keyword property sales in East London.
Google is not everything online.
We know from personal experience that while google may be one of the best way to get clients its not always the best avenue to invest all your effort into. Googles 200 algorithms are constantly shifting, to try and keep up with what they are doing all the time is foolish, a good seo knows googles algorithm is made to enhance user experience, so why not start their with your own website, instead of chasing google go where google is headed. 
Facebook , pintrest and some online directories can sometimes prove to be hidden gold mines and they are not nearly as hard to rank in as google. At the end of the day it all depends what sources are bringing you more traffic and sales. So instead of spreading you thin we specialise and optimise your website for 2 or 3 of these avenues saving time and increasing visibility.
Below is Emonti Branding another of our clients they boast a powerful position as a website authority on embroidery and google knows it thanks to us.
Seo takes time and skill and intuition.
Whilst there may be lots of software and tips and tricks out there , often times each niche, website and industry requires a different approach. Some localised , some international , some are very competitive and others not. When it comes to marketing you have to play it by ear. The web is ever changing a marketer, content writer or Seo consultant needs to be flexible and up to date with whats happening in the online world around them.
Le duke Life is yet another of our successful marketing campaigns , they came to us for a website and we gave them East London.
Some of our other Search engine optimisation success stories :
Most of our websites are high ranking. We cant share our secret to their success here but its one of the benefits we offer to those whom work with us. Higher rankings, more traffic for the correct keywords that sell, more conversions enhanced online business success.  
We see here many small businesses overtaking long time established company websites and effectively taking a piece of their market.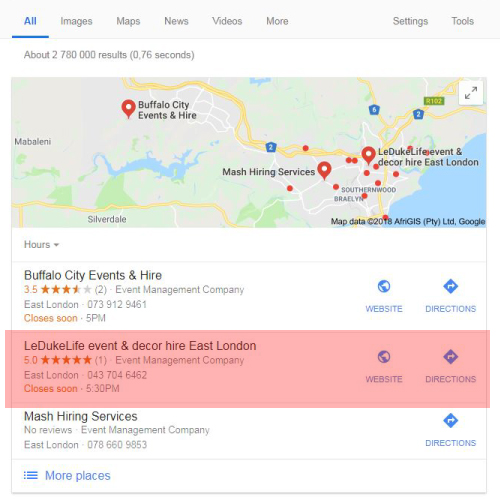 New Perspective takes pride in what they do and we take even more pride in creating strong online presence for business websites around us.
Because having a website is not just the case of getting one designed , deployed and assigned. You bought it to complete a purpose . To spread the word ,make sales ,impact lives and THAT is what we do differently. 
If you feel like making an impact, and look forward to the prospect of growth get in touch with us .
Team New Perspective